In-House Plastic Coil Manufacturing
Features of the PLASTIKOIL® NCF6 Concept Former
Features of the NCF6 Concept Former

View a Video

Coil Diameter Capabilities – 6 mm to 30 mm with options up to 50 mm
Multiple Pitch options – .2475" / 4:1 / 6 mm / 5:1 / 3:1 / 2.5:1
Custom pitches also available
Min / Max lengths – 6.5" to 18" (16 – 46 cm)
Optional slide-in extension table – for lengths up to 43" (109 cm)
An enhanced state of the art PLC Control system
Color Touchscreen with a very User Friendly Interface – making set up
and changeovers even easier
Pre-programmed temperature and machine speed values for each coil
size – Optimized for MAXIMUM productivity
Enhanced system status monitoring (watchdog features) complete with
fault log to aid with service and maintenance
An electrical system complete with breakers. No replacement fuses needed.
3 phase AC motors and variable frequency drives.
Empty Spool Detection system – allows for easier and quicker spool changes.
Improved ergonomics with the Control Touchscreen and E-stop now on the front of the machine for easier operator access.
Easy mandrel changeover
Positive Hexagon Mandrel Drive
Cost effective IMC (Interchangeable Mandrel Components)
Unique Spool Brake design
Safety shields on the heater drum
Air cylinder coil eject
Automatic Oiling System
Small footprint
Smooth, quiet, simple operation
Self-reliant / Minimal operator supervision
Hot Start option – Stop / Start with zero waste
Optional packaging systems
Interline capabilities with the PBS 3000QS4 Auto Inserter(s)
Optional packaging / single and dual interline modules pre-configured into the control system make expansion easy

Gateway's NEW patent pending Reverse Cut PLASTIKOIL®

Standard Cut

Reverse Cut *Patent Pending

The reverse cut lead edge smoothly funnels its way through the punch hole in comparison to the standard cut lead edge. A great advantage especially when binding thicker books. An option on the PLASTIKOIL® New Concept Former. Retrofits also available for existing machines.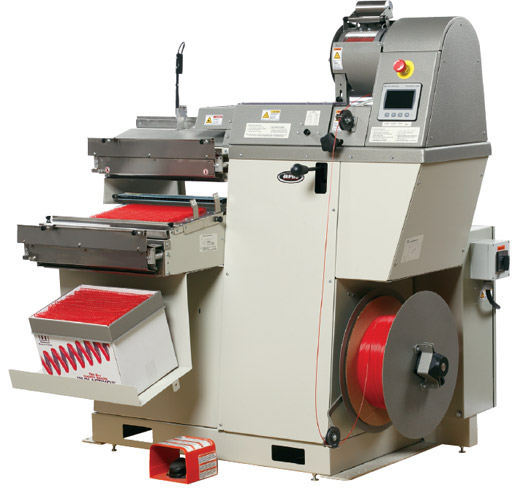 The NCF6 Concept Former manufactured by Gateway Bookbinding Systems Ltd.