Coil Inserters
PBS 1650 TKB – Total Koil Binder
Full range table-top solution for plastic spiral binding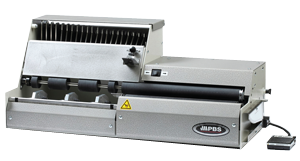 One machine with two modes of coil insertion that can handle coil diameters from 6 to 50 mm. Easy to use & affordable.

Patent Pending
Type 1 - for .2475" / 3:1 Pitch
Type 2 - for 4:1 / 3:1 / 2.5:1 Pitch
Features

Comes complete with:

Set of 21 Spine Formers
Photo Instructions
Productivity
As high as 350 books/hour
Full Range Coiling Capabilities
Can bind books with coil diameters from 6 mm through 50 mm (1/8" to 1-7/8" book thickness)
Min/Max Binding Edge
From 1" up to 39" edge (2.5 to 99 cm) with Rollers
From 6" up to 12" edge (15.25 to 30.5 cm) with Spine Formers
Foot Pedal Operated
Benefits
Can handle all available coil diameters from 6 to 50 mm.
Vertical book placement can accommodate tabs or wider covers.
Offers two distinct modes of coil insertion based on book thickness.
Partners nicely with the TCB Total Cut & Bend Dual Crimper.
Tech Specs
110 V or 220 V Single Phase
CE Compliant
Dimensions 28"W x 12.5"D x 12"H (71 cm x 32 cm x 30.5 cm)
Net weight - 53 lbs. (24 kgs)