Coil Inserters
PBS 2600 TCB – Total Cut & Bend
Dual Sided Crimping Unit for coil diameters from 6 mm to 50 mm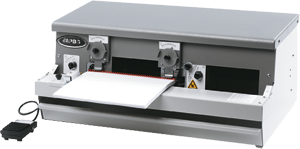 The TCB - Total Cut & Bend with its patented design can cut and crimp the full range of plastic spiral diameters from 6 mm up to 50 mm - with the same crimping heads!

(U.S. Patents # 7,731,468 & # 7,828,503)
Features

No tools required for size changeovers.
Accommodates coil diameters from 6 mm to 50 mm without the need to change crimp heads.
Min/Max binding edge 5.5" - 17" (14 cm - 43 cm)
Easy to follow decals guide the operator through setup.
Removable off-cut tray makes accumulation and disposal of off-cuts neat and tidy.
Available with electric or pneumatic actuation.
Foot pedal operated.
Benefits
Simple dial adjustments enable you to setup, cut and crimp coil diameters from 6 mm to 50 mm with the same crimping heads!
Longer crimp achieved as the coil diameter increases reducing the risk of coil unwinding from the larger punch holes.
Large top surface doubles as useable workspace.
Easily integrated with most coil insertion equipment.
Tech Specs
Electric version - 110 V or 220 V Single phase
Pneumatic version - Compressed air requirements: 80 psi @ 1 cfm
CE Compliant
Dimensions 28"W x 16"D x 12"H (71 cm x 41 cm x 30.5 cm)
Weight - 40 lbs. (18 kgs)
Five Simple Steps for Setup & Changeover
Step #1 - Set Coil Guides



Adjust both the left and right coil guides to the coordinating diameter. This adjustment opens or closes the channel that guides the coil into the crimp heads.
Step #2 - Set Head Tilt Angles



Loosen this thumb screw and slide it up or down to the coordinating diameter and re-tighten. This adjustment changes the angle of the cut & bend heads so that they can accommodate the various coil diameters.
Step #3 - Set Table Height



Lift and slide the front table to the appropriate coordinating diameter position. This provides the coil with sufficient room to fit into the crimp heads. The front table also provides support for the book being crimped.
Step #4 - Set Sidelay Position



Loosen and slide the sidelay into position with the coordinating diameter marking and re-tighten.
Step #5 - Set Right Side Cut/ Bend Slide Position



With a bound book sample in position, loosen and slide the right cut/bend head into a position so that the head will be crimping the last loop of coil as it exits the book. Re-tighten in position.