Punches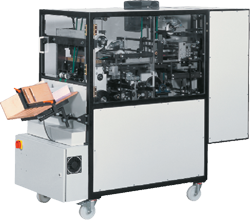 AP 360 Automatic Punch
Top quality punching technology

The PBS AP 360 Automatic Punch offers hands-free punching of pre-collated books, reports – it can even handle tabs. Simple and easy to changeover – the AP 360 provides top quality punching technology, delivering high levels of production, performance and economic efficiencies.

Features
Punch Speed

40 to 100 strokes per minute / 100,000+ sheets per hour
Punching Thickness
Up to 3.5 mm of 20 lb. bond (35 sheets)
Min/Max Sheet Size
Min - 4" edge x 33/8" (100 x 85 mm)
Max - 145/32" edge x 145/32" (360 x 360 mm)
Manual or Optional Digital Control Panel

Unique Paper Handling
Two-Finger pick up system gently picks up paper, handling mixed stocks and even heavy weight paper
Turn-over drum rotates the punched sheets while maintaining the correct page sequence at the output station
Heavy Duty Components
Stepper motor technology provides for reliable operation with minimal wear
Interchangeable Punch Dies
Wide choice of punch patterns
Dies can be sharpened for prolonged life
Mounted on wheels for easy transport
Benefits
Punches a wide variety of paper stocks and covers keeping it all in perfect pre-collated order.
Format adjustment without tools uses hand wheels with analog position indicators for fast, accurate adjustments.
Short setup times allow for small quantity runs
Options for feed and output allow you to configure the machine to match your production environment.
Tech Specs
220 V/Single phase - CE Compliant
Dimensions 61"W x 32"D x 83"H (156 cm x 80 cm x 210 cm)
Weight - 1570 lbs. (712 kgs)
Two Finger Pick up System
Not available in other auto punches in this price range. The layers of paper are picked up gently, even when punching mixed paper stocks and heavy weight papers. An optional adjustable air blower is also available.
Turn-over Drum
After punching, the sheets are rotated around a large drum to maintain the correct page sequence at the output station.
QSA Punch Dies
QSA means Quick Size Adjustment. Pull pins allow the operator to set a perfect punch pattern format on the common sheet sizes. This feature reduces the set-up time by as much as 15 minutes and is unique for a fully automatic punch.
Manual Display
The AP 360 Manual display allows for quick and easy adjustment of the machine while in operation. Easily start and stop the machine, and control the speed and lift thickness by dials located on the control panel.