Punches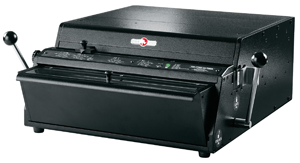 PBS HD7700 Heavy Duty Electric Table-Top Punch
Exceptional quality at an affordable price

The HD7700 is a very solid, heavy duty table-top unit that offers interchangeable quick change punch dies. Ideal for a mid-range volume environment. A 14 inch die that's open-ended to allow for double punching of larger sheets.
Features
Punch Capacity

Up to 55 sheets per lift (Depending on punch pattern)
Maximum Punch Width
14" (35.5 cm)
Open ended to allow for double punching of wider formats
Vertical Paper Insertion

Interchangeable Punch Dies
Oval (Double-D) hole for plastic spiral readily available
Wide choice of punch patterns available for all types of mechanical binding
Accu-Set Paper Stop
Set-up all hole placements easily & accurately, even on odd sized paper
U-View Waste Tray
Holds up to 150% more confetti and eliminates overfills
Foot Pedal / Palm Switch / Versa Switch operated
Benefits
Patented auto reverse feature. The Overload Detection Feature triggers an auto reversing function to reduce paper jams
Patented QCDS – Quick Change Die System
Smooth quiet power-on-demand operation
Rated up to 55 sheets of 20 lb. paper per lift
Punch up to 5 mylar sheets per lift
Extremely durable all metal construction
Tech Specs
110 Volt Single phase (220 V/Single also available)
CE Compliant
Dimensions 23"W x 23"D x 9"H (58.5 cm x 58.5 cm x 23 cm)
Weight – 74 lbs. (34 kgs)