Coil Inserters
PBS 2300 All-In-One
Combination roller inserter/single sided crimper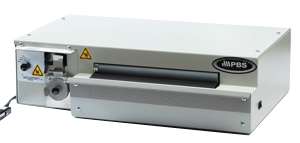 A combination roller inserter / single sided crimper that is both easy to operate and quick to setup for coil diameters from 6 to 30 mm.

Features

Productivity

Coil Capabilities
6mm to 30mm (1/8" to 1" book thickness)
Binding Edge Capabilities
Comes Complete with:
Rollers spin continuously
Benefits
No tools required for basic setup & changeover.
Space saving design, it can fit on any desk or countertop.
Consistent crimping. Uses the same patented crimping technology as Gateway's TCB - Total Cut & Bend.
The front alignment channel curves the book to follow the curve of the coil allowing for easier coil insertion.
Large top surface can be used as a large workspace or punch machine can be stacked.
Simple dial adjustment enables you to setup, cut and crimp coil diameters 6 mm to 30 mm in seconds.
Tech Specs
110 V or 220 V Single phase
CE compliant
Dimensions 24"W x 17"D x 6.5"H (61 cm x 43 cm x 17 cm)
Net Weight - 36 lbs. (16 kgs)