Coil Inserters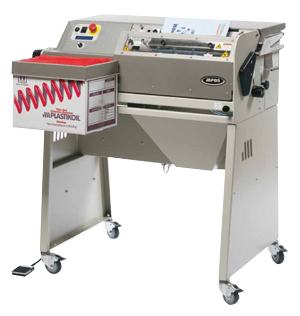 PBS 3000QS4 Auto Inserter
Quick Setup Automatic Coil Inserter/Finishing System

The PBS 3000 QS - Quick Setup Auto Coil Inserter / Finishing System- Automatically inserts pre-cut lengths of coil into the pre-punched book and simultaneously crimps both ends - all in a single operation! No tools are required for basic setup and changeover.

(U.S. Patents # 6,000,897 & # 7,246,982)

Features

Comes Complete:

Set of 15 Spine Formers
Tool Kit
Photo Instruction Manual & Instructional DVD
Productivity

As high as 600 books/hour
Available in .2475" OR 4:1 OR 6 mm Pitch

For diameters from 6 mm to 20 mm
Recommended Wider 3:1 OR 2.5:1 Pitch

For larger diameters up to 30 mm
Coil Capabilities

6 mm through 20 mm
Up to 30 mm in wider pitch option
Available Formats

12"/A4 model (Binding edges from 5" to 12"/12.7 to 30.5 cm)
17"/A3 model (Binding edges from 5" to 17"/12.7 to 43 cm)
Offcut Disposal Drawer

Foot Pedal Actuated

Video available. Click here.

Benefits

QS - Quick Setup - no tools required for basic setup and changeover.
Vertical book placement can accommodate tabs or wider covers
Consistent simultaneous crimping of both coil ends.
Low maintenance design - No need for expensive service contracts.
Mounted on casters for easy movement.
Can be interlined with the PLASTIKOIL® New Concept Former for in-line coil manufacturing and automated insertion.
Tech Specs
110 V OR 220 V Single phase
Compressed Air required 80 psi @ 2 cfm
CE Compliant
Dimensions 36"W x 24"D x 42"H (92 cm x 61 cm x 107 cm)
Net Weight - 190 lbs. (86 kgs)
Built-in Coil Sizing Gauge



The PBS 3000 QS offers a built-in coil sizing gauge to help the operator confirm the diameter of coil required in relation to the book's thickness.
Vertical Book Placement



The 3000 QS has gravity working to it's advantage. The pre-punched book is positioned in the machine on it's spine so tabs or wider covers are no problem.
LCD Screen



The 3000QS4 has a Liquid Crystal Display screen that guides the operator through the machine's setup and operation. The LCD screen communicates machine status at all times.
Interline Capabilities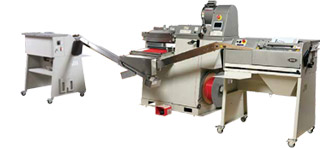 As your coil requirements grow, so can your equipment system. The 3000QS4 can be interlined with the PLASTIKOIL® NCF6 Concept Former to expand your capabilities to include in-house coil manufacturing with automated finishing. A Concept QS Single Interline is the Former connected to one 3000QS4. The Concept QS2 Dual Interline is one Former interlined with two PBS 3000QS4 Auto Inserters. A modular design that grows with you.

Learn More